December 25th, 2007
Best Wishes From The 2Michelles!
We would like to wish all of you happy holidays and a very happy and healthy New Year! It's been so great meeting many of you throughout the season and we look forward to what 2008 may bring. We were so sad to film our farewell video last weekend, but guess what? You haven't seen the last of us! There might just be a surprise after the Dolphins/Bengals game....Stay tuned and until then, all our best wishes for the holiday season!
GO DOLPHINS!!!!!!
December 18th, 2007
DOLPHINS VICTORY!!!
Are you guys still on Cloud 9?? We are! What a great game and what a sweet victory! Now let's get a second win against those pesky Pats!
In the meantime, it's time for us Dolfans to rally together and vote for Cleo Lemon and Cam Cameron!
Cleo Lemon has been nominated for the Fed-Ex Air Player of the Week. Cleo completed 23 of 39 passes for 315 yards and one touchdown to lead the Dolphins to their first victory of the season with a 22 - 16 win over the Baltimore Ravens.
Click HERE to vote!
Coach Cameron is nominated for Motorola Coach of the Week. Coach Cameron led the Dolphins to their first victory of the season with a 22 - 16 win over the Baltimore Ravens in overtime.
Click HERE to vote!
November 30th, 2007
Vote Jason Taylor for NFL Neighborhood MVP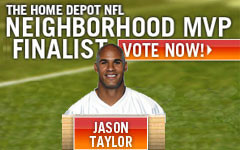 The Home Depot NFL Neighborhood MVP is a new program that recognizes NFL players who are making a positive impact in their local communities through charitable programs and contributions. The program will reward a total of 17 players with a football field refurbishment or a playground build in their honor and a donation to the charity of their choice.
Jason Taylor's refurbishment is scheduled for Dec 18 at Bay Points Schools.
NFL fans are invited to vote on the player they feel is making the greatest impact in their community. This vote and input from a Blue Ribbon Panel of judges will help determine which player will be honored as The Home Depot NFL Neighborhood MVP of the Year.
As many of you may know, Jason Taylor does a tremendous job of giving back to his community and it would be great if we could all work together to help him receive this amazing honor. Please click HERE to vote.
Thank you to Jason Taylor for making a difference.
November 20th, 2007
VOTE FOR TED GINN, JR!
Hey Dolfans! Our very own Ted Ginn, Jr has been nominated for the Diet Pepsi Rookie of the Week! After that awesome 89-yard punt return, he deserves to win, and we can make it happen!!
Click HERE to vote.
GO DOLPHINS! And GO TED!!! :)
November 19th, 2007
Freezing in Philly
Hello Dolfans! Please be sure to check out our video from our trip to Philly. It will be posted on Tuesday on
miamidolphins.com
. Despite the freezing cold temperatures, it was a fun trip. Unfortunately, the team did not secure it's first win, but we are hoping for a great game in Pittsburgh.
If you plan on attending that game, please e-mail us and let us know where you will be tailgating.
We also wanted to wish everyone a great Thanksgiving holiday! Safe travels and best wishes!
PS...To Devin, who reached out to us on e-mail: Thank you for the message, but we actually don't attend all of the games. Just the ones on the road. Go Dolphins!
November 15th, 2007
Heading Into Philly
Hey Dolfans! Sorry that it's taken us awhile to update our website. It's been a crazy week with work and one of us being out of town. Who's ready for a WIN?!?! We are! And we can't wait to head out to Philly this Sunday to see our Fins take on those Eagles.
The Dolphins announced that John Beck would be starting at QB and we are eager to see what he can do. It's clear from all of his interviews and from the news stories that not only has he been working hard, but he is also proud to be a member of this team. It will be cool to see him take to the field.
Who else is braving those Eagles fans this weekend? Please send us an e-mail and let us know where you'll be.
We are looking forward to some friendly banter with our friends over at
EaglesVan.com
. They're a great group, despite cheering for the wrong team! :)
Dolfans, we look to you to rally together and CHEER ON YOUR TEAM!!!

GO DOLPHINS!!!!!!
November 6th, 2007
Bye-Bye, Bye Week!!
Who's ready for some Dolphins football again?! We know we are! It was weird waking up on Sunday and not going out to see our Fins play, but we hope that everyone rested up and is ready to rock this Sunday against the Bills!
We will be in New York for the game. Plans are still in the works, but as soon as we know for sure, we will let you know.
In the meantime, we are very excited to share with you
PART II
of our London video! Our time there was so amazing and we had a lot of fun reliving it when we met up to edit together all of the clips. This is a must-see! Please visit
www.miamidolphins.com/2michelles
to check it out.
GO DOLPHINS!!!
November 1st, 2007
HAPPY BIRTHDAY TALL MICHELLE!!!!!!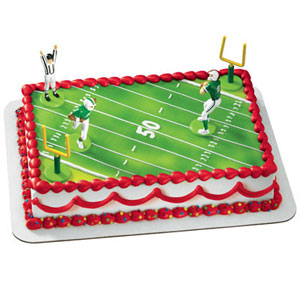 October 31st, 2007
Happy Halloween!
It's been awhile since we updated the page and I'm sorry for that. Tall's had a broken computer for weeks and I'm still in London for work. I leave tonight, though and bring with me so many amazing memories! This past weekend cannot be summed up into words, but I will certainly try. First of all, our video is currently posted on
www.miamidolphins.com/2michelles
. It's Part I of a two-part series. It covers our Saturday in London and a wonderful event hosted by our new friends, Dolfan UK. It's a video you definitely want to add to your favorites! We would like to thank
Dolfan UK
and
Dolfan Italia
for welcoming us to their party. We had a great time!
On Sunday, Tall and I attended the NFL tailgate party, which was absolutely amazing! They converted the floor of the arena into every football fan's perfect playground. They had tons of football-related games, music, face paint, autograph signings, and much, much more!
Around 4:00pm, we walked into Wembley Stadium, and I must say that I was left completely speechless. The stadium is beautiful! Our seats were amazing. Center endzone, lower level. I'm pretty sure Ted Ginn heard us yelling "GO TEDDY!!!" every time he was on our side to return a kick. I definitely got a little emotional being there because it was history in the making. I looked around the stadium and saw so many Dolphins fans, many of them who had never before seen an NFL game live, and you could see in their faces how much it meant to them to be there. Another thought that occurred to me is that the Dolphins must have tons of new fans now. Oftentimes people will become lifelong fans of a team, simply because it's the first team they see live. I am sure that many of the people in the stands will cheer for the Fins for years to come and in 30 years they will talk about the day they became a Dolphins fan.....the day the Dolphins played at Wembley.
Thank you, Miami Dolphins and the NFL for making this whole weekend so spectacular! Please be sure to check out Part II of the London video next Tuesday on www.miamidolphins.com!
I've got to run and catch a plane back to NYC.
-Short Michelle…signing out….GO DOLPHINS!!! :)
October 22nd, 2007
A Few Messages from The 2Michelles
Hello Dolfans! Thank you to everyone for all of your e-mails! It's always great to hear from fellow Dolphins fans. Despite the team's record, we are all loyal fans and will always support our Fins!
We had a great time on Sunday with our friends, tailgating on Tall Michelle's roof. Thank you to everyone who participated! It was awesome filling the Dolphins corner in our local bar for the game. You definitely don't want to miss this video! Check it out on
www.miamidolphins.com/2michelles
On a personal note, and in the spirit of Breast Cancer Awareness Month, we would like to dedicate this video to Donna, the mother of Short Michelle's best friend. Donna was one of the strongest and most positive women to ever live. She was also a huge football fan and loved everything about the game. Unfortunately, our time with Donna was cut short when she lost her fight with breast cancer.
In the post below this one, you saw what the Dolphins did to fight this terrible disease, and now we would like to do our part by reaching out to you. If you would like to donate, please visit
www.concernfoundation.org
(Donna's favorite charity).
Thank you!
October 20th, 2007
Division Rivals Face Off!
Hey Dolfans! The last time we faced the Pats, we kicked their butts in a shut-out. We think it's time to repeat that performance!
All the preparations have been made. We've got our very own rooftop tailgate going on and then we're heading over to our sports bar which is normally crawling with Patriots fans. We can't wait to silence them with our army of Dolfans marching in together!
Just a reminder that October is Breast Cancer Awareness month. The Dolphins are doing their part (
click here
) and we ask that all of you do yours. There are plenty of opportunities to show your support, so let's all gather together to win the fight against cancer!
October 16th, 2007
2Michelles Take On Ohio!
Good morning, fellow Dolfans! Another weekend has come and gone and we can't believe how quickly we are flying through this season. Although the traveling is exhausting, we are enjoying every minute of these adventures. And this past one is no exception! We took a bit of a detour on our way to Cleveland and you definitely want to check out where we ended up!
You can access the video on
www.miamidolphins.com/2michelles
and if you're in a hurry, you can have the podcast uploaded straight to your iPod!
Thank you again to everyone who made this trip to Ohio a fun and unforgettable adventure!
A few reminders:
1.) New York DOLFANS - We need your help! We watch the home games in a Patriots bar, so we need as many of you to rally with us this Sunday. If you know that you will be in NYC and would like to cheer with us, please e-mail us at michelleandmichelle@gmail.com
2.) Make sure you tune in to the best hour of sports radio - Miami Dolphins All-Access every Monday, Wednesday and Friday on www.miamidolphins.com
3.) Are you watching our videos wishing it were you cheering on your Dolphins? Now you can make that a reality. Scroll down and click on the Dolphins vs Bills Value Pack offer. It's a terrific deal and a great way to go and cheer on your team against our division rivals, the Buffalo Bills.
October 11th, 2007
Throw On a Jersey and Go to the Game!!
Hey Dolfans! We wanted to let you know about a great deal being offered by the Miami Dolphins for the November 11th game against the Buffalo Bills. $99 gets you 2 game tickets, 2 hot dogs, 2 Pepsi products and 1 Gameday program. That is an awesome deal!
Football is a great way to spend a Sunday and if you're there live in person, it's even better! So mark your calendars, order your tickets, throw on your jersey and go CHEER ON YOUR FINS!!
Click on the image below for details.
GO DOLPHINS!!!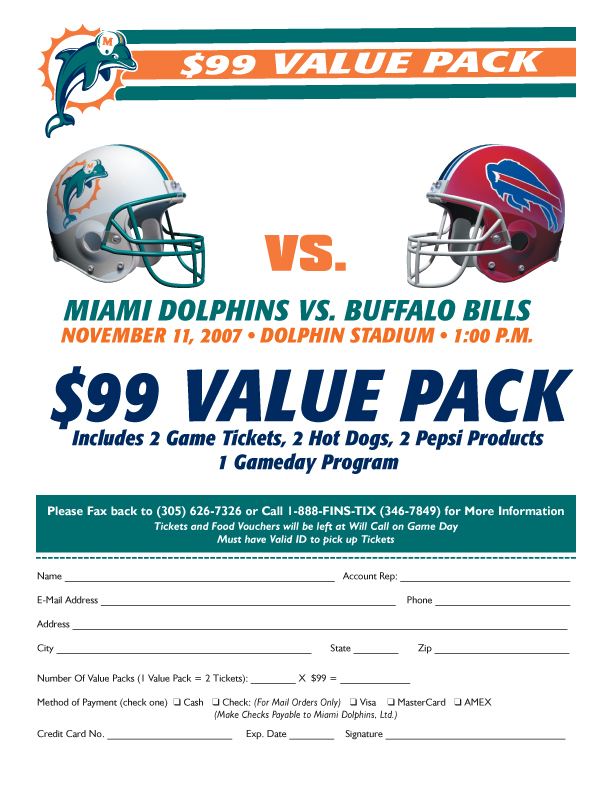 October 9th, 2007
THE REVIEWS ARE IN!
According to the latest polls, over 97% of TV viewers say that the best TV show right now isn't even on TV! It's on miamidolphins.com
! Yes, ladies and gentlemen, the Houston Episode of the 2Michelles series is live and ONLINE! Go to
www.miamidolphins.com/2michelles
to see us take on Texas! It is chock full of new adventures, fun interviews and some really awesome Dolfans! There's even a dance video at the end!
We'll see you in Cleveland! GO DOLPHINS!
PS...The remaining 3% of TV viewers who didn't agree are clearly Jets fans. :)
October 5th, 2007
Bring it on, Houston!!!
Wow, we blinked and it's already Friday and time to pack up for another trip to see our Dolphins! We know we promised to write to you from the airport last weekend, but when we got there, the line for security was 10 miles long. Then we discovered that our gate was ALL the way at the end. So after finally arriving at the gate, we had about 2 minutes before the plane left. So much for updating the website. Then we got back to NYC, and were completely swamped at work, in large part due to the fact that we missed 2 days for the Miami trip. But it was all worth it to be back home in Miami for those 4 days and meet everyone who participated in Web Weekend IV. Truly a unique and unforgettable experience.
We are also one of the last to upload our photos, but we promise to get to those ASAP and post them here on the site.
In the meantime, if you want to see something truly hysterical, then click
HERE
and visit our friend Igor's site
www.boredwithlosing.com
and watch the video he has posted from our meeting with Coach Cam Cameron.
As we said, we're off to Houston tomorrow. Looking forward to meeting up with Doug and his
Phinatics
crew. This sounds like it's going to be an awesome weekend and we have a lot in store for the new video, so make sure you log onto
www.miamidolphins.com
on Tuesday morning to check it out!
We'll see you in Houston and GO DOLPHINS!!!!!! It's time to put 0-4 behind us and get a BIG WIN this weekend!
October 1st, 2007
Picture Worth 1,000 Words
Hello, fellow depressed Dolphins fans. It's fitting that the rain is coming down in Miami right now, because the weather coincides with the mood after yesterdays game.
We'll post more later while we wait at the airport for our flight back, but in the meantime, we just wanted to share a photo with you from
The Miami Herald.com
. Proof that we kept up hope until the bitter end.
Hopefully this new month will bring some new results for our Miami Dolphins.
Special thanks to all the fan sites who participated in Web Weekend. We'll have those photos up soon. Something to cheer us up today. :)
Enter content here