July 31st, 2007
FOOTBALL...365 DAYS A YEAR
Sounds great, doesn't it?! Well, year-round football is a reality to those employed by the 32 NFL teams and our good friends over at
Phin Phanatic
had the chance to interview a member of the Miami Dolphins. There's more to a team than just coaches and players. It's important to also focus on the people that continue to bring us football all year long.
Being employed by a football team is something that many fans dream of, and Scott has one of those jobs that truly makes people jealous. Be sure to check out his "31 other people" response when asked about his job. It's a really cool perspective that never even occurred to us.
July 25th, 20007
Moderately Cerebral Bias = Magnificent Sports Blog
Are you a sports lover who just can't get enough? Ready to add a new site to your list of favorites? Then you absolutely must check out
http://mcbias.blogspot.com/
We recently discovered this website because MC Bias blogged about The 2Michelles, specifically Tall Michelle's interview with Joe Thomas' aunt at the NFL draft!
CLICK HERE
His blog is informative and funny. He puts his own creative spin on whatever sports news (past or present) he decides to write about each day. With coverage of pretty much all sports, as well as human interest and analytical commentary, he appeals to sports fans across the spectrum. We really enjoy reading his blog and hope you do too!
PS...We know it's next to impossible to compete with Alyssa Milano or the world of female athletes, but deep down we hope to one day be an MCBias RSC -
(Random Sports Crush)
:)
July 20th, 2007

Pink: It's Not Just for Bridesmaids Anymore! (thank goodness)

We love this site! It's the perfect combination of sports and gossip. Like the 2Michelles, The Pink Seats designer, Jen Z chooses to focus less on the stats and more on the human interest side of sports. Her website was recently written up in the
Palm Beach Post
. The world of sports has come a long way and it's great to see so many female fans so actively involved!
July 19th, 2007
Congratulations to our friend Big Dave over at Phinfever.com!! One of the publications at NCSU wrote a really cool article about him and all of his work on the website. It even mentions how they were one of the answers on Jeopardy!
July 14th, 2007
MEET THE 2MICHELLES!!!
We hope that everyone had a great weekend! It occured to us that we never officially introduced ourselves to you guys, so we put together a video to let you get to know us.
The video includes a little about our individual stories and shows you the silly side to the 2Michelles. We know it's a bit long (about 10 min), but we PROMISE it will make you laugh! Especially the music video at the very end.
Enjoy!!!
GREAT INTERVIEW!
Our friends over at Phinatics.com had an amazing opportunity to interview Channing Crowder! He is one funny dude and has some great things to say. We hope you enjoy it! Click HERE.
July 13th, 2007
HAPPY FRIDAY EVERYONE!!
We hope you all are having a great summer so far and are counting down the days until kick-off. (We are!)
We'd like to start featuring some of the great fans who have been contacting us on our website. You guys all rock and it's so great to hear from you!
This week we are featuring one of the Dolphins' biggest fans.
Jason recently returned from serving in the military over in Iraq. As you can see from the photo below, he represented the Dolfans when he was over there. We've also included the link to a video of him being interviewed upon his return from Iraq so that you can get to know him better.
Click HERE
Thank you to Jason and the rest of the brave men and women who work to protect our country!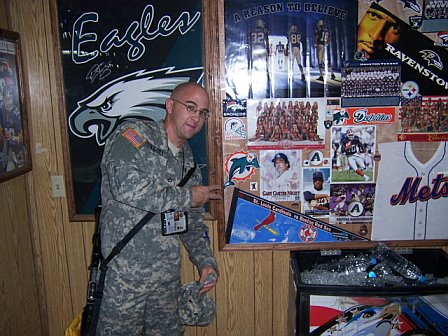 July 6th, 2007
HAPPY BIRTHDAY
SHORT MICHELLE!!!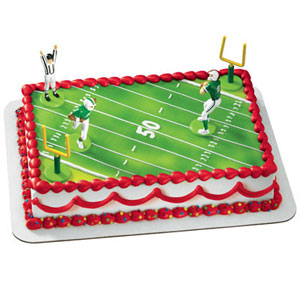 July 3rd, 2007
The 2Michelles would like to wish everyone a very happy and safe Fourth of July celebration!