June 30th, 2007
It's amazing how communities can form without ever meeting the people that you are corresponding with. We witnessed that first hand when we decided to launch our website. After reaching out to a group of other fan sites, we were welcomed with open arms and it's nice to know that we all support each other.
One of those sites is Phin Phanatic. This site is extremely well organized, loaded with cool content and constantly provides up to date Dolphins news. So run, don't walk, and check out:
Many thanks to our friends at Phin Phanatic for the very kind (and totally awesome) write-up!!!
June 28th, 2007
2Michelles merchandise is FINALLY HERE!!!
June 22nd, 2007
We just wanted to share a photo of Tall Michelle's dog, Scern wearing his Sunday best.
Have a great weekend everyone! Only 77 days left until football season!!! (48 if you watch pre-season!)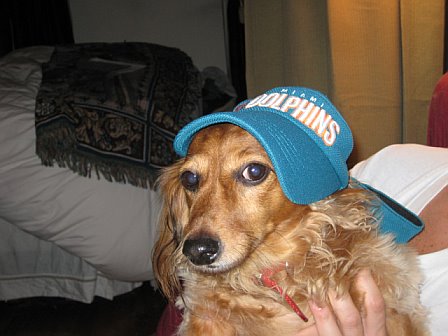 June 19th, 2007
We have been added to the Miami Dolphins website!!! Check it out!
June 1st, 2007