September 24th, 2007
Week 3 Video on miamidolphins.com
We had a great time on Sunday at the Meadowlands (despite the score and those pesky Jets fans!) :) It was perfect weather and we were happy to find tons of fellow Dolfans there! Don't worry guys, we'll get the Jets next time!
It was fun creating our "Virtual Locker Room". (you'll understand when you see the video!)
In the meantime, here are some photos from our day.
See you next week in Miami! The 2Michelles are hitting their HOME TURF!!!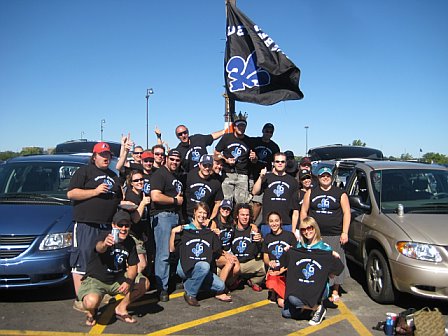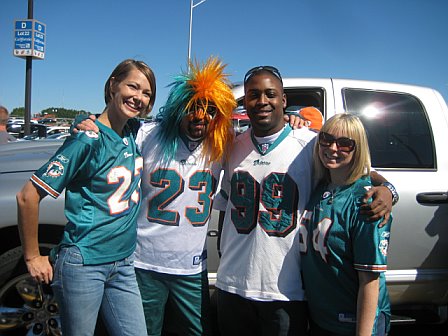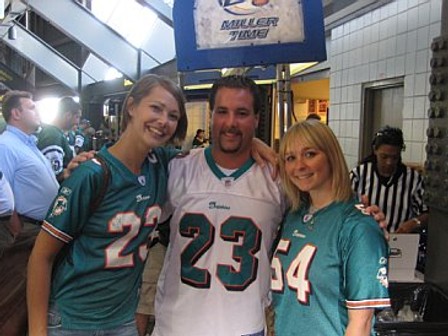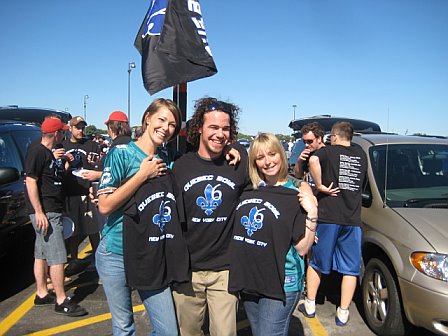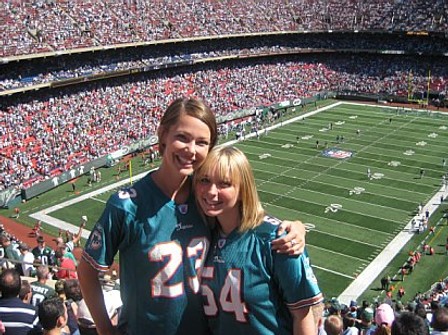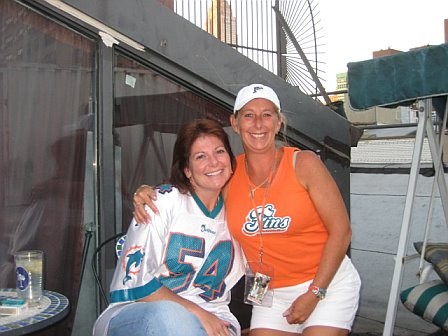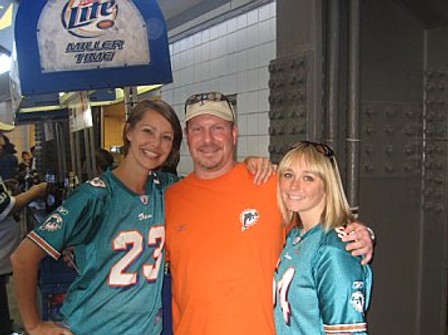 September 21st, 2007
SAY HELLO TO THE NEWEST DOLFAN!
Earlier this year, Rebecca became the newest member of the Miami Dolphins fan club! Short Michelle's very good friends, Melissa and Jason (both Dolfans), are the lucky parents of this adorable girl! And while all their other friends sang the Alphabet Song and Twinkle Twinkle Little Star to Rebecca, Short Michelle sang to her the Miami Dolphins Fight Song! We can't wait until she's old enough to go to her very first football game!
Congrats Melissa and Jason!!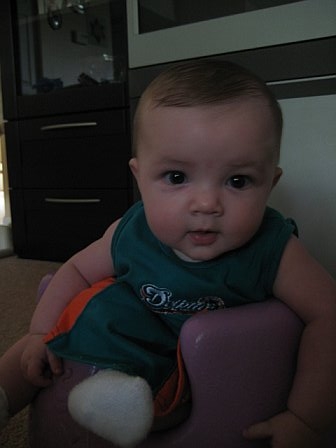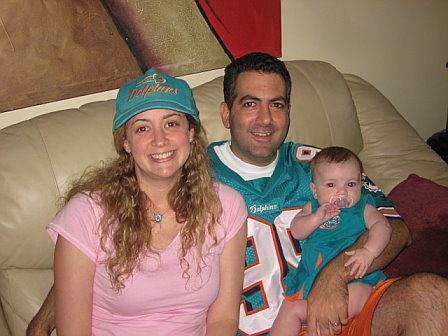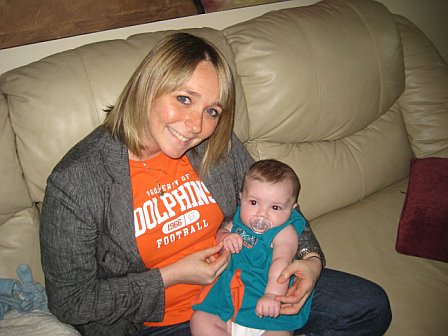 September 18th, 2007
Week 2 Video POSTED!
We had a terrific homecoming at our local sports bar. It was great seeing everyone and cheering on our Fins with old and new friends. Thanks to everyone who participated in our video!
The video is currently up on the main page at
www.miamidolphins.com
After today you can access it at www.miamidolphins.com/2michelles
Also, don't forget to check out Miami Dolphins All-Access Radio tomorrow from 2:00-3:00pm. If you have any comments or questions, feel free to call in (954-577-8998) and be sure to tell them that the 2Michelles sent you!
September 15th, 2007
ALMOST GAME TIME!
We just wanted to share a few photos with you from our trip last week. (Thanks Kyle & Michael for sending yours in!) It was great meeting all of the awesome Fins fans who were at Fed Ex Field. Here's hoping for a big win tomorrow! We'll be in NYC at our local sports bar filming all the action. The video will be posted on
www.miamidolphins.com
on Tuesday. And in case you haven't seen last week's video, you can check it out
HERE
.
We would also like to say hello to Tim, Adrian and his grandpa, who are currently driving 10 hours to Miami so that they can see their very first live Dolphins game! Have a great time, guys!!
GO DOLPHINS!!!!!!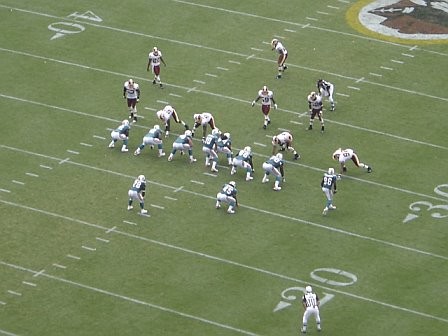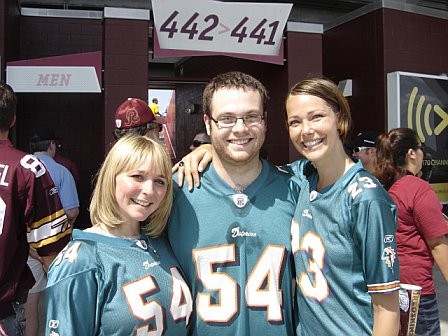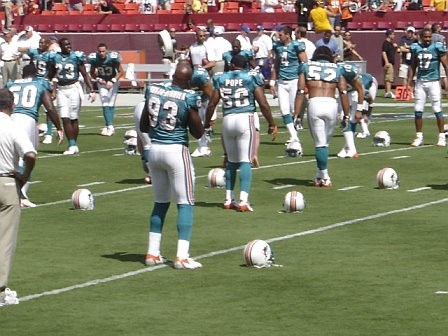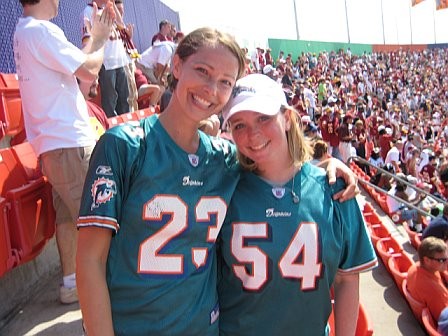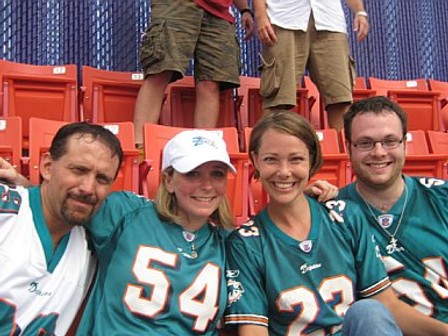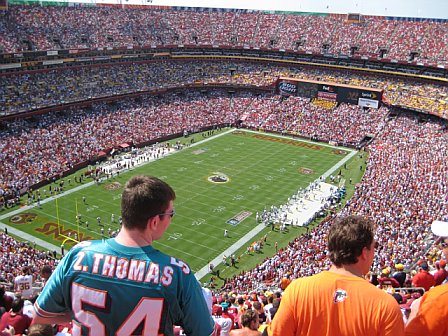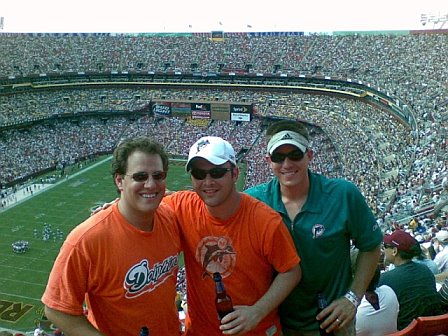 September 13th, 2007
TELL US YOUR STORY
Check out Ed's favorite Miami Dolphins story! If you have a great story to tell us and you will be at any of the games we are attending, please
contact us
and let us know!
September 12th, 2007
Miami Dolphins All-Access Radio TODAY!
Be sure to check out the Miami Dolphins All-Access Radio Show from 2:00-3:00pm this afternoon. Today's guest will be the team President and COO, Bryan Wiedmeier.
They want to hear from you, so make sure to call in with any questions and comments.
Go to
www.miamidolphins.com
to access the show.
To call in, please dial (954) 577-8998 and be sure to tell them that The 2Michelles sent ya!
September 10th, 2007
NEW 2Michelles Video on miamidolphins.com
Hey Dolfans! We had a GREAT time at the Dolphins/Redskins game on Sunday. (let's not talk about the outcome). It was a terrific experience and we had the opportunity to meet so many of our fellow Fins fans! Please be sure to visit
miamidolphins.com
to check out our video, which will be posted on the main page on Tuesday. Anytime after that, you can access all of our videos
HERE
.
Another cool thing to mention is that Morgan, one of the Skins fans that we interviewed, was also interviewed by The Washington Post. He was kind enough to mention the 2Michelles and we now have our website linked from the Washington Post's website!! Click
HERE
to check it out.
Many thanks to everyone who contributed to our video!
September 10th, 2007
We would like to extend our thoughts and prayers to Buffalo Bills player, Kevin Everett and his family during this difficult time. We will continue to think positively and hope for the best.
September 9th, 2007
GAME DAY!!!
We're here in DC and we can't wait to head over to the stadium! Woke up at 6:30am. (Like 2 kids on Christmas morning!) We'll report back tomorrow. GO DOLPHINS!!!
In the meantime, while you're waiting for the game to start, check out our latest "Tell Us Your Story". We met Zee when we called for a car service to take us to Miami Mikes for Preseason Game 3. He saw our Dolphins jerseys and could not believe that he had met two fellow Dolfans. Thank you, Zee, for sharing your story with us!
September 8th, 2007
Mercury Morris Interview
Dolphins Running Back...
Pro Bowl player...
Two-time Super Bowl winner...
Member of '72 Undefeated Dolphins...
and now....rap star!!!
You definitely do NOT want to miss this. The great Mercury Morris recently sat down with Doug Ford for
Dolfansites.com
to talk about everything from the undefeated team to the Dolphins fight song to his very own rap, which is all about the 1972 undefeated Dolphins. It's a great interview and you can access it by clicking
HERE
The lyrics are AWESOME and you can check them out by clicking
HERE
September 7th, 2007
Rally the Fans!!!
We wanted to let you know about another terrific Dolphins watch party happening this weekend. The Miami Dolphins are hosting "Road Rallies" at various locations throughout South Florida during each Miami Dolphins road game during the 2007 season.
This Sunday's party will be at the Hollywood Ale House.
You will have the chance to meet members of the Miami Dolphins Cheerleaders, Alumni, Fins Force and mascot T.D., as well as have the opportunity to win great Dolphins prizes!
For more information on this, and upcoming "Road Rallies", please visit
www.miamidolphins.com/roadrally/
September 6th, 2007
Attention South Florida Dolphins Fans!
Hey Dolfans! If you're in South Florida and looking for a place to check out the game against the Redskins, then look no further!
Big Papa Pump is hosting a party in the loft at Bru's Room in Pompano, FL for the Dolphins season opener! Admission is FREE! Former Dolphin Jim "Crash" Jensen will be in attendance as well as Dolfans from several different fan sites, including phinatics.com, dolfanatic.com, bitchindave.com, finheaven.com and more.
For more detailed information, please visit
www.BigPapaPump.net/appearances.htm
September 4th, 2007
Who's Ready for Some FOOTBALL?!?!
We know we are! In the video below, we wrap up the Miami preseason and also talk a bit about our travels for the upcoming regular season.
GO DOLPHINS!!!!!!