"I'd catch a punt naked, in the snow, in Buffalo, for a chance to play in the NFL.."

-Steve Henderson

And guess what? So would we! Welcome to The Michelles' Website. We are an unstoppable, unflappable, lean-mean, football loving duo out to take the concept of "fan" to a whole new level.


RIP Jim "Mad Dog" Mandich
April 26th, 2011

Today is a very sad day for anyone who ever knew the great Jim Mandich. So many in South Florida knew him as a champ on the field, while others grew up listening to his outstanding broadcasting of the Phins games. We had the honor of meeting him when we spent a season traveling to Dolphins away games. His love for this team was so obvious. and it was a real treat to be able to talk football with him. We saw him connect with fans and it was always clear that this man was respected, admired and loved.

Jim "Mad Dog" Mandich will forever remain an important figure in Miami Dolphins history and in our memories as well.

Our thoughts go out to his friends and family. May you find peace and strength in the unwavering support of so many who knew and looked up to Jim.

We will miss you, Mad Dog.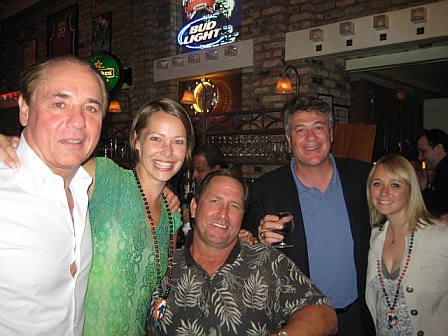 RIP Jim Mandich

How Sweet It Is! - Tuesday, September 14th, 2010


It was a nice start to the football season. Despite a little rain up here in NYC, the day went really well! There had been a lot of buzz on the DolfansNYC Facebook page, so I knew that the crowd at Third and Long would be amazing....and I was right! People started showing up at 11:30am! I was still putting up the decorations and the Phins fans were pouring in.

Before the game even started, the cheers rocked the bar. Aerial camera shots of the stadium and the team practicing got the crowd fired up. We even saw our friends, the Dolfan Bandits, on TV several times! The Dolphins were well represented in Buffalo, as well as NYC.

At one point I took a moment to look around and take it all in. When Tall Michelle, Igor and I first went over to Third and Long, we were in need of a home base. Our corner at the Hairy Monk had gotten much smaller as the Pats fans multiplied like Gremlins at that bar. Fellow Dolfan, Justin, mentioned that there was a nice group of Phins fans at Third and Long, so we decided to leave the Hairy Monk and make the switch. What followed that was a pure phenomenon and something that should have happened a long time ago. It's no secret that Dolphins fans are EVERYWHERE in NYC. We just needed a place to all come together. Third and Long opened it's doors and it became official. We had a home.

Next came the website, the Facebook page, the Twitter account, the YouTube videos, the Flickr albums, etc, etc. Before we knew it, the bar was being written up on websites and in newspapers as the OFFICIAL home of NYC Dolphins fans! In our first season, with the help of some of our friends at the Miami Dolphins and friends of some of the athletes, we had great prizes to raffle off and raised money for charity. Proud cannot begin to describe how we feel about DolfansNYC.

Of course, there's good change and not so good change. With the start of this wonderful Dolphins bar came the end of an era as Tall Michelle packed up to move to South Carolina. The focus moved more towards building our respective Dolphins fan clubs and farther away from this site. Our two years of travel, adventures, videos, etc had come to a close. But, rest assured that this site isn't going anywhere. It may not be updated as frequently, but that doesn't mean that we don't care about this site. We want to thank everyone who has supported us for the past several years and who has taken the adventure with us. We're still here and we're still as happy as ever to be Miami Dolphins fans!

Sunday ended with a win over the Buffalo Bills.

I'm sure Tall Michelle lost her voice while screaming at the TV and I ran around with a video camera trying to capture all the excitement of the day. Some things will never change....

Prayers for a Fellow Phins Fan - 9/1/2010

Hi everyone....we know we haven't been online much, but with the start of the season, we will be posting more frequently. As we all get ready for football to start, let's please take a moment to send well wishes to one of our fellow Dolphins fans. Chris Leeuw, one of the staff writers at www.phinphanatic.com recently broke his neck and is mostly paralyzed from the shoulders down. He is currently in a rehabilitation center and is working very hard at regaining motor functions and getting stronger. He needs our support! Please visit his web page and send him your well wishes. He checks them everyday and we know from our friend, Brian Miller, that the support from the Dolphins community really means a lot to Chris.

To follow Chris' progress and leave him messages of supports, please go to: http://www.caringbridge.org/visit/chrisleeuw/journal